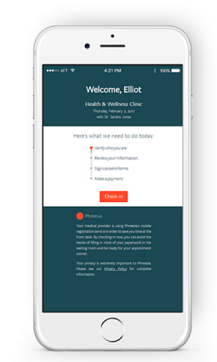 Beginning August 24, 2020, MNA will begin to use a mobile check-in tool. The name of this tool is Phreesia Mobile and we think you will LOVE it!  This will allow you to check-in for your in-person, virtual, and phone visits with a few clicks, no App required! 
Please check out this 30 second video that provides you with information about Phreesia Mobile:
Welcome to
Metrolina Nephrology

Metrolina Nephrology Associates is the region's most recognized and experienced nephrology group. The practice has been on the forefront of the treatment and management of kidney disease for more than 40 years. Composed of 36 Nephrologists and 31 Nephrology Advanced Practitioners, our practice serves patients from seven convenient locations. Our extensive network of providers and offices allow our practice to deliver care in an atmosphere that is personal, patient centered, and compassionate.

Metrolina Nephrology Associates has 36 Board Certified
Nephrologists and 31 Advanced Practitioners to meet the
needs of our patients.
KIDNEY DOCTOR CHARLOTTE KIDNEYDOCTOR NEPHROLOGY NEPHROLOGIST TRANSPLANT DIALYSIS METROLINA KIDNEY TRANSPLANT CHARLOTTE NORTH CAROLINA NC GASTONIA MATTHEWS MINT HILL MINTHILL HUNTERSVILLE MOORESVILLE SALISBURY UNION MONROE CONCORD ARBORETUM FORT MILL SOUTHCAROLINA SC SOUTH CAROLINA KIDNEYTRANSPLANT ROCKHILL ROCK HILL METROLINA SHELBY CHERRYVILLE WINSTON SALEM DIALYSIS